OK, OK, I know that I've already previously posted three blogs about subtraction. But recently, when preparing to teach my friend Ruth Cossey's elementary math methods class at Mills College, I decided to focus on subtraction as a way to talk about the balance between developing understanding and developing skills.
A Beginning Problem
As an introduction, I told the class that I began teaching in 1962 and asked them to figure out how many years I've been a teacher. I asked them to solve this problem in their heads, without paper and pencil. (You might want to try this first before reading what Ruth's students reported.)
They all got the correct answer—54 years (an amazing thought to me)—but they reported several different ways of figuring.
One student added 40 to 1962 to get 2002, and then added 14 more to get the answer of 54 years.
Another went two years back to 1960 and figured out that 1960 was 56 years ago, and then subtracted 2 years.
Another saw it as a subtraction problem on her mental chalkboard, solving 2016 – 1962.
Another counted up by 10s from 1962, keeping track of the 10s on her fingers—1972, 1982, 1992, 2002, 2012—and then added on 4 more.
Some solved the problem as an addition problem while others solved it by subtracting. This helped illustrate the importance of students seeing the relationship between addition and subtraction.
So, Why Not Just Add When You Have to Subtract?
Students typically learn to add before learning to subtract, and paper-and-pencil addition doesn't seem to pose the difficulties that subtraction does. This inspired my dear friend and colleague Nicholas Branca to come up with an algorithm for subtracting that builds on students' strength with adding, instead of them having to learn a completely unrelated algorithm.
When subtracting, Nicholas would change the problem to an addition problem following a specific procedure. (Well, aren't all algorithms "specific procedures"?) Below is a step-by-step explanation for using Nicholas's method to figure out that 503 – 398 is equal to 105. [This is a problem I wrote about in an earlier blog post Why I Like Using Open Number Lines (Though I Don't Like the Name).]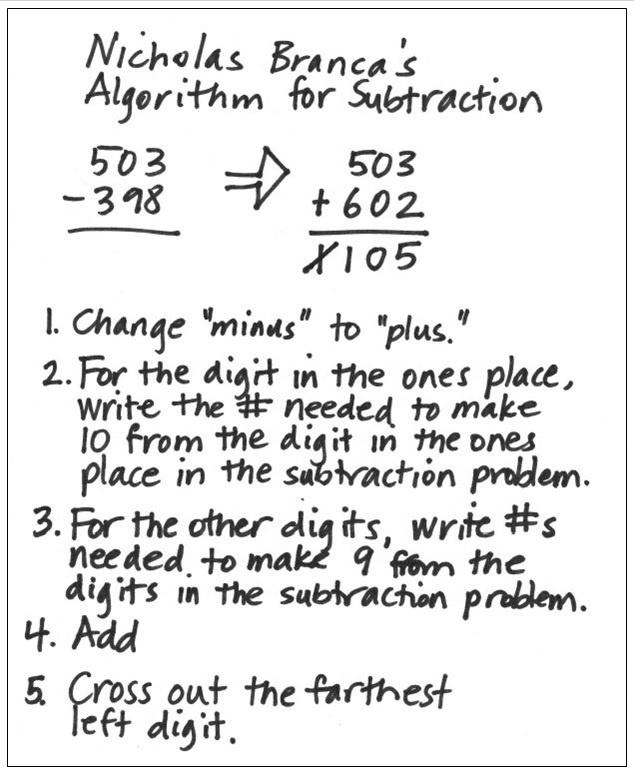 To clarify: In order to change 398 in the subtraction problem to 602 in the addition problem, first look at the 8 in the ones place in the subtraction problem and think, How much more to get to 10? It's 2, which becomes the digit in the ones place in the addition problem. Then look at the other two digits in the subtraction problem, the 3 and 9 in 398. Think for each, How much more to get to 9? That's how I got the 6 and the 0 in the addition problem.
Say What?
Students in Ruth's class had the same reaction that I had when Nicholas first presented this method to me: What is going on here? Here were their questions and my responses.
Q: Can you do that?
A: I just did, and got the correct answer.
Q: Will the method work for every problem?
A: Try it for 2016 – 1962 and see if you get 54. That won't prove whether or not it works for all problems, but at least it's a way to try the method for yourself. 
Q: How come you figured out the number to add in the ones place by adding up to 10, but figured out the numbers in the other places by adding up to 9?
A: That's how Nicholas taught me.
Q: Why did you cross out the farthest left digit?
A: Again, that's how Nicholas taught me. He reminded me that we "cross out" when we subtract using the traditional algorithm, so why not here.
Q: WHY DOES THIS METHOD WORK?
A: Ahhh, that's an interesting mathematical question. Let's try and figure out why. That's the kind of mathematical thinking we need to do with any algorithm we teach.
Does Nicholas's Algorithm Really Work for 2016 – 1962?
Yes. Here's how I used it to figure out that I've been teaching for 54 years.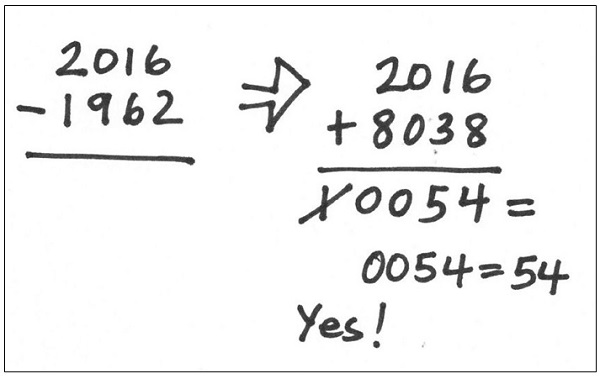 Why Does Nicholas's Algorithm Work?
I decided to think about why Nicholas's method works by considering a simpler problem: 7 – 4. To use Nicholas's algorithm, I changed 7 – 4 to the addition problem 7 + 6 (following step #2 and figuring that I needed to add 6 to the 4 to get 10). That resulted in a sum of 13. I crossed out the 1 and got the correct answer of 3. Violà!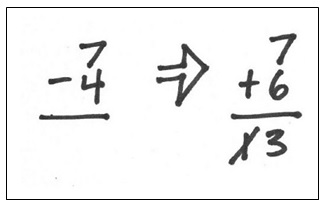 Then I noticed that since the 1 in the sum of 13 is in the tens place, crossing it out is the same as subtracting 10.
So what I had done, mathematically, was change 7 – 4 to 7 + 6 – 10.
It seemed clearer to me if I put in parentheses: 7 – 4 = 7 + (6 – 10)
And 6 – 10 is the same as -4.
And 7 + -4 = 3.
This isn't a proof, but it was a way for me to work my way into the problem, trying to sneak up on a proof. I'll leave it there.
Should We Be Teaching Nicholas's Algorithm?
No, I'm not recommending that, certainly not with the goal of building students' proficiency with using Nicholas's algorithm. Nicholas's goal was to point out that not understanding his algorithm may be the same as students not understanding when taught how to regroup with the traditional algorithm. He presented the opportunity to experience what many students experience trying to learn the procedure for paper-and-pencil subtraction.
But if you think your students would benefit from trying to figure out why Nicholas's method makes mathematical sense, go for it. Also, it might be good for students studying algebra to think about how to justify Nicholas's algorithm algebraically. Or perhaps a more general goal might be to help students understand what an algorithm is.
And What Exactly Is an Algorithm?
An algorithm is a step-by-step procedure that provides a reliable and efficient way to compute for a broad class of problems. That's what I wrote in a previous blog post, Another Way to Subtract .  In that post, I also address what the difference (not meant to be a pun, really) is between an algorithm and a strategy.
A Final Note
I've been thinking about subtraction for a long while. In addition to the two previous blog posts I've cited, there's one more, Yet Another Way to Subtract. If you're interested, check it out. Maybe I should have titled this post Yet Again Another Way to Subtract.