Below are examples from two fifth graders I interviewed. I asked each to use paper and pencil to figure out the answer to 5000 – 328. Both students got the correct answer of 4672, and it took both of them about the same amount of time to complete the work.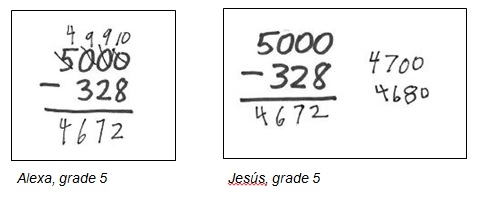 Alexa's solution shows how she applied the standard algorithm that she had been taught. As she worked, Alexa gave clear explanations about the steps she used, demonstrating her proficiency with the procedure.
Jesús solved the problem in a different way. He didn't explain as he worked. I watched as he thought for a moment and then wrote 4700 to the right of the problem. He thought some more and wrote 4680 underneath 4700. Finally he wrote the answer of 4672. When I asked Jesús to explain, he said, "First I did 5000 minus 300, and that's 4700. Then I took away 20 more, and that left 4680. And then I subtracted 8 and got the answer." Jesús didn't use the standard algorithm but instead used paper and pencil to keep track of his thinking as he computed.
The standard algorithms that we teach are effective and efficient, and it's important for students to learn and practice these paper-and-pencil procedures. But these algorithms aren't the only ways to compute. Jesús's strategy for subtracting, for example, also efficiently produced the correct answer. He was comfortable with his method and confident about the answer. However, I had never seen this strategy before and was more curious than comfortable or confident.
When I got home that day, I fiddled with Jesús's strategy on a slew of other subtraction problems with whole numbers and found it surprisingly effective and efficient. (I suggest you try it for yourself.) Then I wondered if his method would work for subtracting decimals. Success! (Try it yourself and/or see if you can follow how I applied Jesus's method to the problems below.)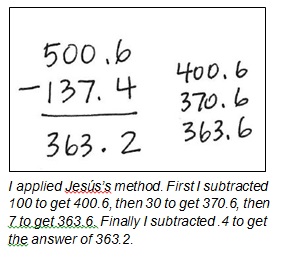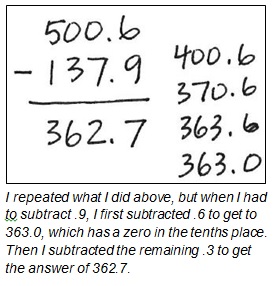 Questions from Teachers
When I share Jesús's work with teachers, they typically react as I did with surprise and curiosity—and some confusion. The following Q&A collection presents some of the questions teachers have raised as we investigated Jesús's work and my responses. After these questions, I suggest some ways to use this experience in the classroom.
Q. Is Jesús's strategy mathematically OK?
Yes. Jesús decomposed 328 into its place-value parts—300, 20, and 8. While his strategy of working from left to right isn't conventional, it indicates that Jesús was able to apply his understanding of place value. (I'm not sure that I would have understood how Jesús had reasoned merely from looking at his paper and not listening to him explain. This is an example of why I find interviewing students so useful.)
Q. Is Jesus's method an algorithm?
I think it is. An algorithm is a step-by-step procedure that provides a reliable and efficient way to compute for a broad class of problems. After trying Jesús's strategy on other problems (see above), I'm convinced that I can use it for all subtraction problems, so I consider it a subtraction algorithm. A caution: When teaching algorithms, It's important for students to learn how they are based on the structure and logic of our number system. It's important for them to understand that algorithms are procedures that have been invented to carry out calculations we need to do repeatedly.
Q. Are you recommending that we teach students how to use Jesús's strategy for subtraction?
No, I'm not recommending that students become proficient with Jesús's strategy. However, as I describe in the Classroom Suggestions section at the end of this post, it would be valuable for students to think about why Jesús's method works. This is a way to stretch their mathematical thinking, to strengthen their understanding of place value, and to give them another way to apply their place-value understanding.
Q. What's the difference between a strategy and an algorithm? Why isn't Jesús's method a strategy, not an algorithm?
These are important questions. I googled "strategy vs algorithm in teaching math" and 12,900,000 results came up (in 0.63 seconds). In the context of arithmetic, when a strategy can be generalized to a systematic, step-by-step procedure for computing that works for a broad class of problems, then it can be considered an algorithm. Even though not all students' strategies are algorithms, their strategies are valuable ways for us to assess their understanding and for them to develop, extend, or cement their learning.
Q. Can you give an example of a student's strategy that isn't an algorithm?
Take a look at this video clip of Amelia figuring out the answer to 100 – 18. I think it's an example of a strategy that works for specific problems but isn't as broadly useful as other algorithms for subtracting.
Q. We do expect students to learn the standard algorithm for subtraction, don't we?
Yes. It's also important for us as teachers to help students understand how algorithms are rooted in our place value system and are based in logic. For that reason, along with learning algorithms, I think it's important to discuss why they work. Also, I think it's important that students know that the procedures we identify as standard algorithms aren't the only algorithms that exist.
Q. Could Jesús's method be the standard algorithm recommended today instead of the one we current use?
I think that's an interesting idea. As a child, I attended P.S. 225 in Brooklyn, NY, and learned how to subtract as a second grader in Miss Collins's class. I remember learning what she described as the "borrow, pay back" method, which I guess was the standard subtraction algorithm taught then. It's not the algorithm that's currently considered to be standard, but another that's also rooted in place value and based in logic. Later, in a teacher prep class on teaching elementary mathematics, I learned that it was called the Italian method or the equal addition method. I still subtract that way when I resort to paper and pencil (which is rare, indeed). (If you're interested, do an Internet search for "equal addition subtraction method" to find lots of options for learning about what Miss Collins taught.)
Classroom Suggestions
Try these ideas for giving students ways to think about subtraction.
Demonstrate Jesús's method for subtracting. Ask students to make sense of why Jesús first wrote 4700, then 4680, and finally the answer of 4672. Give students the opportunity to explain Jesús's reasoning in their own words. Then give students a subtraction problem and ask them to solve it using Jesús's method. (Use either 600 – 582 or 4000 – 1635, problems that require students to subtract across zeros, which typically presents problems.) Have them work in pairs or small groups and then make up other problems to try. Lead a discussion about why the method works.
When students use the standard algorithm for subtraction, they are renaming the top number in order to make the subtraction easier. While Alexa didn't think about this renaming, she changed 5000 to 4000 + 900 + 90 + 10, which is equal to 5000. Understanding this calls for focusing on the why of the algorithm, not just the how. To help your students think about this, record on the board how Alexa solved the problem. Then ask students to talk in pairs or small groups about why the following is true:

Here's another way to represent the renaming that Alexa did to subtract. Show this to your class and have them discuss.


Final Note
For more about subtraction, read Yet Another Way to Subtract.