When Alfred, a sixth-grade teacher, explained the trouble-coming method of subtraction he learned as an elementary student, he recalled that his teacher had pointed out that you didn't "make any cross-outs" or "write those little 1s." He said that his teacher's tone of voice made it sound as if doing subtraction without marks of any kind had to be superior. You can decide about that.
To describe the trouble-coming method for you, I made a short video (less than a minute and a half) to demonstrate  with a sample problem. A warning first: You may find the video deadly dull. My husband, Jeffrey, listening to me record my explanation, wondered if perhaps I could use, well, a more conversational tone. I tried. Honestly, I tried.
Making the video reminded me of why teaching by telling can fall flat, especially when something calls for understanding and making sense. It also reminded me how difficult it is to teach the subtraction algorithm and to help students understand its logic. You may find my explanation confusing, but I think there's something of value to discuss, both about the trouble-coming method of subtraction and about teaching a procedure (what to do) versus teaching for understanding (the why of what we do).
OK, enough disclaimers. I suggest that you take a look at the video. The sample problem is 6028 – 4352.
Discussion Questions
OK, now what? I think it would be helpful to talk about what I've shown with some colleagues. Here are questions that I've found useful for a discussion:
Question 1: How can you tell when trouble is coming?
Question 2: Does the method work for all subtraction problems? (Try it with some other problems.)
Question 3: Should we be teaching this method to students along with the standard algorithm?
Question 4: Why does the trouble-coming method work?

Some Responses to Discussion Questions
Question 1
You know that "trouble is coming" when you look at the column to the right and notice that the top number is less than the bottom number, making trouble for subtraction. (That is, if you stick to using only positive integers and zero, as we typically do when we first teach subtraction.)
Question 2
Question 2 is the easiest for me to answer. Yes, I've found that it works for all subtraction problems. A related question: Is it an effective and efficient algorithm? I think so. (I wrote about algorithms in my previous post, Another Way to Subtract.)
Question 3
I'm not interested in students becoming proficient with the trouble-coming algorithm. It seems to me that practicing with one algorithm to the point where it becomes automatic is enough. But I think showing the method, as I showed it to you, could lead to an interesting discussion with older students. It supports the ideas that algorithms are invented procedures that work and that there typically is more than one algorithm for a particular calculation.
Question 4
It's been said that you know something best after you've had to teach it. That makes sense to me. To explain something, you first have to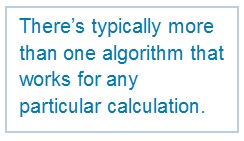 make sense of it for yourself, and then think about how you might help someone else understand it. So to learn something—really learn it—you have to be able to explain it to yourself. For me, the trouble-coming method has to do with adjusting in a different way than we adjust when we regroup for subtraction, which we also do because we've run into trouble (with a digit in the top number that's less than the digit underneath it). I'll leave you with this challenge of explaining why this method works.
A Final Note: I wasn't able to find anything when I did an Internet search for "trouble coming method for subtracting." Nothing even remotely related came up. I searched a few other ways (e.g., "left to right subtraction") but couldn't find any reference to this method. But I did find something that reminded me of a method I learned a while ago for subtracting with only those dreaded zeros on top. See the second idea below in "Classroom Suggestions" for more on that.
Classroom Suggestions
Here are suggestions for engaging students with subtraction.
If you choose to demonstrate the trouble-coming method with your class, do so with a light touch. Don't make students feel that it's a method they have to learn, but rather make the point that there are typically a variety of algorithms that work for any particular problem.
Talk about subtraction problems with zeros in the top number. In my previous subtraction post, Another Way to Subtract, I wrote about Jesús's method for solving 5000 ­– 328. Here's another way to solve it. Since the zeros are typically what give students trouble, change the problem so there aren't any zeros by subtracting 1 from the top number—that is, subtract 1 from 5000 to make it 4999. Then the subtraction will be easier. But since you reduced the top number by 1, you need to add it back; if you increase the answer by 1, you'll be all set.

Have students in pairs try this method for other subtraction problems. While this works for problems when we subtract from a multiple of 10, it's not effective and efficient for all subtraction problems. But it sure comes in handy for this one.