I was inspired to write this post after I read a post on Joe Schwartz's blog: When Bad Things Happen to Good Algorithms.  I started to write a response to the post on Joe's blog site, but I got long winded. So here it is.
In his post, Joe includes examples of student work from third and fourth grades that he collected over the past several weeks. The blog was especially timely for me as I was preparing to teach Ruth Cossey's elementary math methods class at Mills College. As I looked through my collection of student work, a paper from a third grader, Nomar, reminded me of what Joe was talking about. I had interviewed Nomar, and his paper showed solutions, all incorrect, for four of the problems I had presented to him. [What do you notice about Nomar's work?]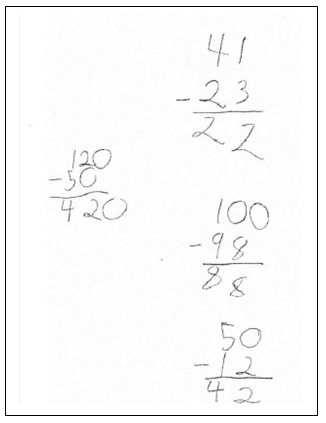 Two Things I Noticed from Nomar's Work:
When I interview students, I present problems horizontally and ask students to figure out answers in their heads. (See my response below to Joe's question below about presenting calculations verically vs horizontally.)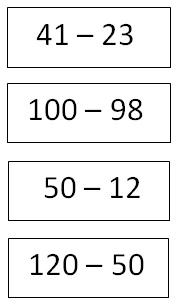 However, Nomar asked for pencil and paper to solve these four problems. When I reviewed his work, I noticed two things:
In these problems, Nomar consistently subtracted the smaller digit from the larger. (He seemed to use a "do what you can" strategy; i.e., in the first problem instead of subtracting 1 – 3, he figured 3 – 1.)
When writing 100 – 98 and 120 – 50 vertically, Nomar lined up the numbers on the left, not according to their place values. (This isn't totally surprising when I think about how much we emphasize going from left to right in reading instruction.)
A Shift I'm Trying in Interviews
Before asking students for answers to problems like the ones I gave Nomar, I'm finding that it's useful to pose a question that asks them to think about what's reasonable, giving them a specific parameter rather than asking for an estimate. Here's an example: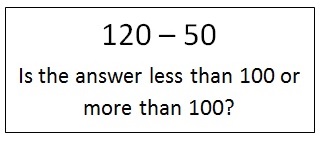 After the student responds, I always ask, "Why do you think that?" This gives me the opportunity to assess the student's number sense. Without number sense, I don't think teaching an algorithm is appropriate.
About Joe's Noticing and Wondering
Below in italics is what Joe wrote at the end of his post related to the examples of student work he posted. My thoughts follow each of Joe's comments.
These students have underlying issues with place value.
This is a problem for Nomar, and a problem I encounter regularly.
All these students have seen and used base-10 blocks. They've been taught to add, subtract, and multiply using partial sums, differences, and products. For some reason they default back to a traditional algorithm, even though many of them haven't even encountered the traditional algorithm yet. So they must be picking it up somewhere. Maybe on the bus?
Maybe they pick up the traditional algorithm on the bus. Maybe from parents or older siblings. Or maybe the manipulation of base-10 blocks simply doesn't translate for them to paper-and-pencil calculations. A confession: I no longer use base-10 blocks when trying to develop algorithmic understanding or proficiency. I think that base-10 blocks have value for helping reveal the underlying place-value structure of our number system, but using them to teach a regrouping strategy for subtraction, for example, too often has disappointing results.
Are these examples of what I've heard called over-reliance on the traditional algorithm?
I think that algorithms, whether with base-10 blocks or paper and pencil, too often focus students on "doing something with the digits" instead of "making sense of quantities that the numbers represent." I asked a class of sixth graders, How much is 50 percent of 36? and more than half reached for paper and pencil, rather than thinking first. Oy.
All of the answers are wrong, but some egregiously so, like 1,000 – 500 = 1,500.  Or 37 x 35 = 245.
It was the same with Nomar subtracting 120 – 50, arriving at the answer of 420, and never noticing that it's ridiculous. If I had asked Nomar the estimation question I suggest above about whether the answer is less than 100 or more than 100, I might have learned more.
Is there a difference in the way kids do these kinds of calculations when they are presented vertically vs. horizontally?  Has anyone done any research on that?
I don't know of any research. But in my experience, seeing problems vertically seems to trigger applying an algorithm. Seeing problems horizontally seems to have more of a potential of not triggering the algorithm. That said, it's not enough to present problems horizontally and think that it will necessarily encourage kids to reason.
These are not necessarily representative; many kids can add, subtract, and multiply multi-digit numbers just fine.  But do we confuse some kids by attempting to teach them multiple ways to do these multi-digit calculations?  Are some kids better off just learning one way?  Or at least one way at a time?  This is something I hear quite often from teachers.  Are they right?
Here's my thought: If I'm focusing on teaching an algorithmic procedure for students to learn, then it seems that one procedure is enough. If I'm focusing on helping students develop ways to reason, then multiple strategies are valuable.
Graham Fletcher, in his addition and subtraction and multiplication progression videos, urges us not to rush students through conceptual stages of understanding.  My guess is that what we're seeing here is the result of such rushing. It's also likely that there are students who are calculating correctly by following the traditional algorithm, but have little or no understanding of the underlying concept. Masked by correct answers, their misconceptions go undetected, and that is just as troubling as what we see above.
Over and over again, I've seen correct answers mask lack of understanding and incorrect answers mask understanding. I think it's important to keep the emphasis of math instruction in all instances on thinking, reasoning, and making sense.
My Final Thought
While algorithms are valuable and important, I think it can be helpful to emphasize that the best use for paper and pencil is to keep track of thinking, not to robotically perform a procedure.
Stay tuned for how I addressed the algorithm issue when I taught Ruth's class. I'll post a blog about that in a few days.
And thanks, Joe, for your post.