I'm always on the lookout for math experiences that engage students' interest and curiosity, encourage them to persevere when solving problems, and are accessible to students with a wide range of abilities. Solving KenKen puzzles does all three. After getting hooked on solving them myself, I explored their classroom potential, and I've been pleased with the results.
At first glance, KenKen puzzles look like Suduko puzzles—you fill a grid with numbers. Both are logic puzzles, but KenKen puzzles have the instructional benefit of providing practice with basic facts.  Plus Ken Ken puzzles are ideal for differentiating instruction. Now I'm hooked, not only on solving KenKen puzzles, but on using them with elementary and middle school students.
KenKen Puzzles Come in Different Sizes
In KenKen puzzles, the numbers you're allowed to write to fill the grid depend on the size of the grid. If the puzzle is a 3-by-3 grid, you can use only the numbers 1, 2, and 3. If the puzzle is a 4-by-4 grid, you use the numbers 1, 2, 3, and 4. For a 5-by-5 puzzle, you use the numbers 1, 2, 3, 4, and, 5. And so on.
Getting Started in the Classroom
In the classroom, I post a puzzle for everyone to see. I choose an easy puzzle for a first experience. After I give some instruction about the Basic Rule and how to use the Number Clues (see below), I have students come up, fill in numbers, and explain their reasoning. Here's a 4-by-4 KenKen puzzle that involves only addition. (The KenKen website directs you to puzzles of all levels.)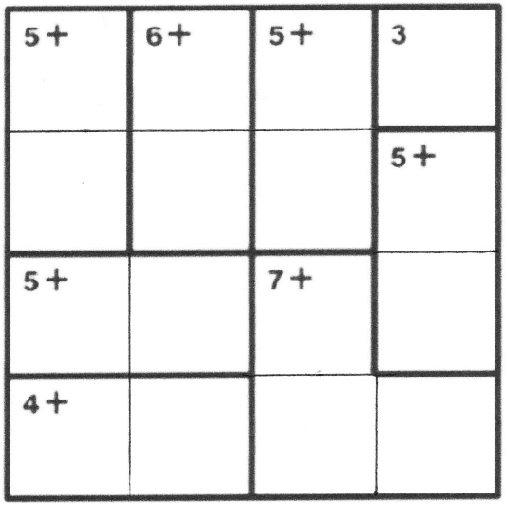 Basic Rule
I explain the Basic Rule: When you write numbers in a KenKen puzzle, make sure that you don't repeat a number in any row going across or in any column going down. (The good news is that you don't have to worry about the numbers on the diagonals, only about the numbers in the rows and columns.) You complete the 4-by-4 puzzle above by writing the numbers 1, 2, 3, and 4 in each row and column. 
Number Clues
I also explain how to use the Number Clues to figure out where to write numbers, and this is where practice with basic facts comes in: Each area in the puzzle that's outlined with dark lines is called a cage. There are eight cages in the puzzle above, each with a number written in the upper left corner. These are the Number Clues. 
Outlined one-box cages are freebies, and the Number Clue is the number to write in that box. But when an outlined cage has more than one box, there's also an operation sign after the number. The numbers you put in those boxes have to produce the answer that's the Number Clue.
Since this is an addition puzzle, there's a plus sign after all of the other numbers. For example, the cage in the upper left has two boxes and "5+" in it. That means you can fill those two boxes either with 1 and 4, or 2 and 3. Deciding which addends to use and in which boxes to write them is the challenge.
Try solving the puzzle.
From a Third Grade Class
As students seem ready, I introduce more difficult KenKen puzzles. Here's a 5-by-5 puzzle that involves multiplication and division. I presented this puzzle to a third grade class. (The puzzle is a screen shot from one of the videos below, so it's a bit fuzzy and the division symbols look sort of like plus signs. But there aren't any plus signs in this puzzle, only times and division signs.)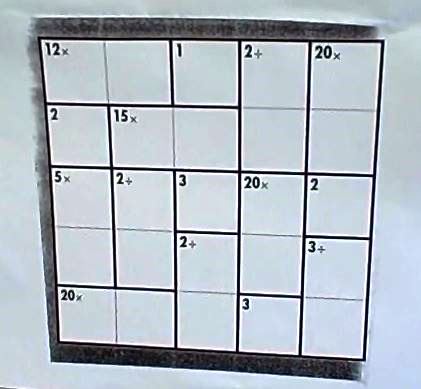 For this puzzle, watch the video clips of the first three students I called on enter numbers and explain.
We continued until the puzzle was complete. Then, as a class, we checked our results. I posted suggestions for students to refer to, encouraging students to do a three-part check when they think they've solved a KenKen puzzle.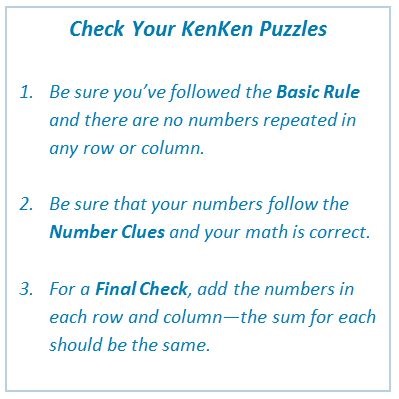 Note: For a 3-by-3 KenKen puzzle, the numbers in each row and column add up to 6; for a 4-by-4 puzzle, they add up to 10; for a 5-by-5 puzzle, they add up to 15; for a 6-by-6 puzzle, they add up to 21.
A Final Note
I've found that some students like to work on KenKen puzzles on their own, while others prefer to collaborate with a partner. I let them choose which they'd rather do. Also, puzzles are ideal for sending home so students can teach their families how to solve them.