This morning, I read a comment posted in response to my recent blog, Eleven Things about the Number Eleven. MQ referred to the very last entry in the extra page of math facts about 11 that I printed separately and rolled into a scroll to accompany the book I made for my grandson's birthday.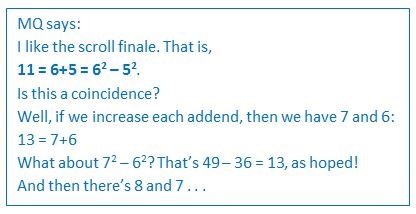 I had found this math fact about 11 on the internet when I was creating the book. While it caught my interest enough to include it, I didn't think more about it. But now I was curious.
I tinkered some with other pairs of numbers, as MQ did. For every pair of numbers I tried, where one number is 1 more than the other, the sum of the numbers was equal to the difference of the squares of the numbers.
To think about this, I made a sketch.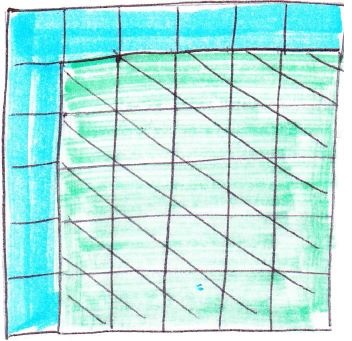 The green square is 5-by-5, which is 52. (I still remember how amazing it was to realize that 52 related not only to 5 x 5, but also to a 5-by-5 square.) The blue-ish square, most of which is hidden behind the green square, is 6-by-6, or 62. So the difference between them is the part of the blue square that's showing, its top row and left column, which has 11 units. And that's 6 + 5 units. Or 5 + 6 units. Or 5 units + 5 units, plus the extra corner unit. Which is the 11 from the book I made from my grandson.
So, I concluded that for any two squares, where the length of the side of one is 1 more than the length of the side of the other, the difference in their areas would be sum of the lengths of the two sides.
I also thought about it using algebra. Here's what I wrote, using n and n+1  to represent any two consecutive numbers (5 and 6 in the example above) and 2n + 1 to represent their sum (11 in the example above).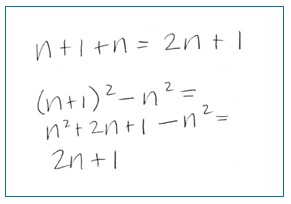 In the spirit that writing is how we work ourselves into a subject and make it our own, writing this blog has helped me make sense of why the math fact I included in my grandson's book holds true for all pairs of consecutive numbers.
But I realize that this blog might be useless to others reading it. What I've done is given an explanation that falls into the category of "teaching by telling," which I avoid in the classroom when I want students to "uncover" knowledge that's based in understanding relationships. This is in contrast to when I feel I need to "cover" material that's based in social convention, not logic. (For more about this, read the comment I posted on Dan Meyer's provocative blog, An Advocate of Explicit Instruction Experiences the Limits of Explicit Instruction.)
I know I'm rattling on a bit. But I needed to share my excitement at making a new math discovery.
So . . . what about if we thought of 11 as 7 + 4, numbers that are 3 apart.  Then what about 72 – 42? Well, it's not 11. It's 49 – 16, which is 33, which is 3 times 11. Hmmm, there's more to tinker with and discover.