At John Muir Elementary School in San Francisco, Ryan Lawler teaches Kindergarten and Sara Liebert teaches fourth grade. They are part of the school's Lesson Study team, and for public lessons, they decided to use One Is a Snail, Ten Is a Crab with their classes. They were familiar with the lesson I described in my earlier blog post about using the book with second graders, and they saw possibilities for their classes.
About the Book
The subtitle of the book appears on the book's cover: A Counting by Feet Book. Set at the beach, the book counts by groups of feet: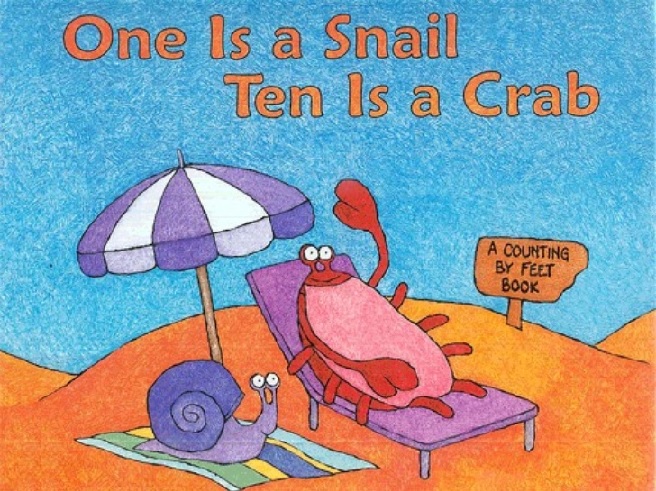 1 is a snail (because a snail touches the sand on the beach at only one spot, with its belly)
2 is a person (arrows in the illustration point to a boy's two feet)
3 is a person and a snail (arrows point to the three feet)
4 is a dog (arrows again here for the feet, and in all the illustrations that follow)
5 is a dog and a snail
6 is an insect
7 is an insect and a snail
8 is a spider
9 is a spider and a snail
10 is a crab (including its front two feet that are also claws)
The book then continues by multiples of 10 up to 100, which the illustration shows as 10 crabs and also as 100 snails.
A Kindergarten Lesson
Before the lesson, Ryan duplicated small cut-outs of the pictures in the book of the snail, person, dog, insect, and spider. He put the cut-outs of the creatures in five separate small plastic tubs, and prepared a set of tubs for each table group.
Ryan gathered his students on the carpet and introduced the book, One Is a Snail, Ten Is a Crab. He read aloud until the book introduced the number 5 as a dog (4 feet) and a snail (1 foot). He stopped and asked, "Is there another way we can show five feet?" Students made suggestions—five snails, and two people and one snail. For each, Ryan showed the corresponding cut-outs and asked, "How do we know there are five feet?" He gave the students sentence frames for explaining: I made five by . . . I know it is five because . . .
Ryan continued reading the book to the number 10, which the book illustrates with a crab. Ryan had intended to model for the students another way to show ten feet using other animals in the book, but Jabari raised his hand and volunteered, "You could show 10 with a spider and two snails." Ryan followed Jabari's lead, using the cut-outs to demonstrate Jabari's idea concretely. He asked, "How do we know there are ten feet?" He reminded Jabari to use the sentence frames: I made ten by . . .  I know it is ten because . . .
Ryan then explained to the class what they were going to do at their tables individually. He gave each child a worksheet he had prepared with a crab on it and a blank space for gluing down cut-outs.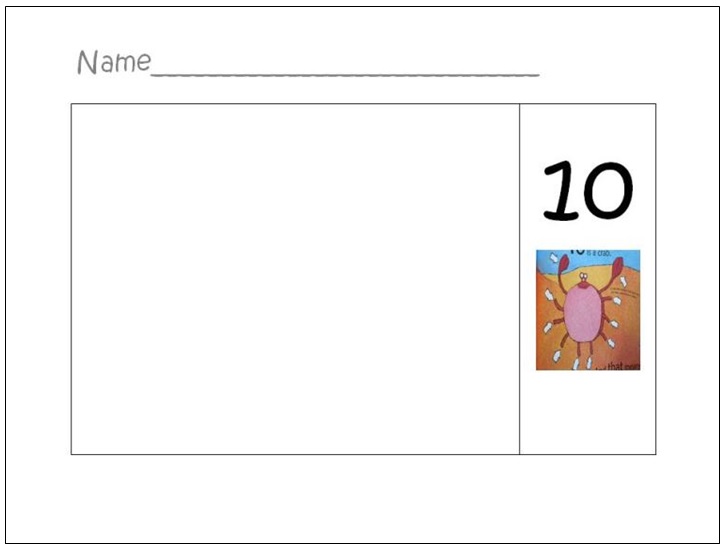 He reminded them that a crab has ten feet and told them they were to paste down cut-outs to show 10 feet in another way. When they were done, they were to bring their paper to the carpet and explain what they had done to another student in the "give one, get one" protocol and using the sentence frames he had introduced.
He then had students return to their tables to make 10 in a different way. Ryan planned to use the students' papers of cut-outs later to connect their concrete experience to writing addition expressions.
A Follow-Up Activity
A few days later, Ryan asked the children to do the assignment again. This time he gave them the constraint that they could use only one or two snails when showing 10 feet. In an email to me, Ryan wrote that this pushed a lot of the children, especially those who had chosen one animal and then pasted snails, one by one, counting each time until they had 10 feet altogether. Now, after selecting an animal, they'd think about how many more they needed to make 10.
Note: To make the cut-outs, Ryan took photos of the animals in the book with his phone, organized them into a Word document table, printed them, then duplicated them and cut them out. Pictures of the animals are also available online.
A Fourth Grade Lesson
Sara had read One Is a Snail, Ten Is a Crab to her class earlier in the school year, and the students had written riddles for numbers up to 20, similar to the lesson I described in my earlier blog. To prepare for this lesson, Sara posted a list of the creatures in the book and how many feet each had.
Snail        1 foot
Person    2 feet
Dog        4 feet
Insect     6 feet
Spider    8 feet
Crab      10 feet
Sara reminded the students that the book represented the number 50 in two different ways and asked if anyone could remember how.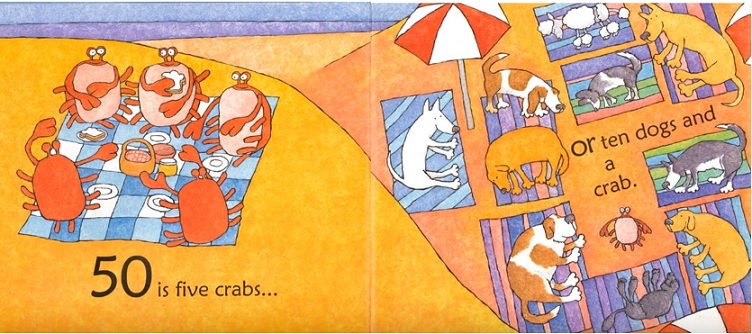 Most of the students recalled that the book showed 50 as five crabs. Sara wrote two equations on the board:
5 crabs = 50
10 + 10 + 10 + 10 + 10 = 50
Jayden said he could use multiplication and write "five times ten." He preempted Sara's plan to introduce this as well. Sara added to the board:
5 x 10 = 50
A few students remembered the other way the book had illustrated 50, and again Sara wrote first an equation using the creatures from the book, then an equation using addition, and then an equation also using multiplication. She used parentheses, explaining to the students that it was clarifying punctuation, as they had learned before, but not essential.
1 crab + 10 dogs = 50
10 + 4 + 4 + 4 + 4 + 4 + 4 + 4 + 4 + 4 + 4 = 50
10 + (10 x 4) = 50
Sara then explained the task, "Now you are going to work independently to come up with other ways to show 50 feet. I'm going to give you five minutes to work by yourselves and see if you can come up with at least two different ways. Then you'll share your thinking with your partner, check each other's ideas, and see if you can come up with any other ways."
The students got to work. The next day, Sara posted their solutions and had a gallery walk so that students could see the different ways they found.