We Ask, We Listen, We Learn is one of the early blog posts I wrote. (I posted it on January 5, 2015.) The post includes interviews of several students answering the question: How much is 12.6 x 10?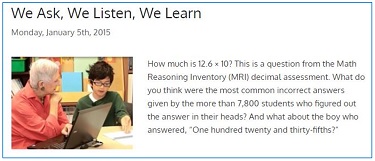 One of the video clips shows Mallika Scott interviewing Natasha, who explains how she decided on the incorrect answer of 12.60. Natasha explains, "Any number that's times 10, you can add a zero at the end."
Even though I wrote the blog more than three years ago, Westley Young recently posted a comment that addresses, in part, the "add a zero" strategy:

Westley (who Tweets as @Cukalu) raised issues that have long concerned me. One issue is my concern about students in the elementary grades noticing a pattern for multiplying whole numbers by 10 and then later erroneously applying the pattern to decimals, as Natasha did.
My second issue is my struggle with what to do about my concern.
In elementary math, students have experiences looking for patterns. This can be good. They learn algorithms. This can also be good. Their language is often imprecise. This is not so good, but they are in the process of learning and learning is messy. Teaching is also messy.
Many thoughts race through my head as I reflect on this video clip of Natasha and on Westley's comment. What should I do as a teacher? How can I help Natasha and students like her reconsider?
My First Thought
What if I said something like this to Natasha:
 


If Natasha answered yes, I'd want to hear why she thought that was true. (I think it's important to ask students to explain their reasoning, even when they're correct. Maybe even especially when they're correct.) Then I might say something like: "I wonder how I could multiply a number by 10 and wind up with an answer that's the same as the number before I multiplied." Could this help? Where might this have led?
My Second Thought
What if I said something like this to Natasha:



Yikes, then I'd be going down a semantic hole that does more to stimulate eye rolls from students than deep mathematical thinking. Natasha wasn't adding zero in the sense that she was performing the operation of addition; instead, she was writing/tacking on/appending (or however you would describe it) a zero to a number. For 8 x 10, she'd do this and get 80. For 12.6, she did this and got 12.60.
My Third Thought
What if I said something like this to Natasha:


This is the idea that I'd like students to understand, as Westley pointed out in his comment. In a class setting, maybe I'd write that on the board, have students talk with a partner first, and then ask students to share their ideas with the class about why what I said is mathematically true. I think they'd agree.
Well, suppose students agreed with all of these statements. Would that help them think about multiplying by 10 in a different way? I'm not sure. In my teaching experience, teaching by telling often isn't effective. My statements may be clear to me, but statements like these are too often mathematical blah-blah to students.
The Role of Contexts
OK, another thought. Mark Chubb (who tweets as @MarkChubb3) wrote a blog titled The Importance of Contexts and Visuals. In the section about using contexts, he wrote:
When I read this, I said to myself, "Yes!"
And then I was reminded of another clip from the same interview with Mallika and Natasha. A few questions after Natasha solved 12.6 x 10, Mallika asked her to solve a word problem: One pen costs $1.39. How much do ten pens cost?
Here Natasha again faces multiplying by 10. She restates what she said when multiplying 12.6 x 10, "Each time when you multiply the number by 10, you just add a zero to the end." But here, in the context of buying pens, she gets the correct answer of $13.90.  Thinking about what Mark wrote, the context of the problem invited Natasha to give an answer that made sense instead of what she did with the naked number problem. Take a look.
Where's My Thinking Now?
I'm still mulling. As Mark wrote, when multiplying decimal numbers by 10, if we ground students' experiences in contexts, they have a better chance of applying reasoning to make sense, rather than applying a pattern that they learned for whole number. (It might be interesting to talk with students about why the "tack on a zero" works with whole numbers and not with decimals. But that would be later.)
Also, in response to Westley's comment about the importance of what's really happening mathematically when we multiply whole numbers by 10, I think I need to acknowledge students' recognition of a pattern but continue to help them understand the pattern mathematically. Too many students see the pattern of multiplying by 10 as pure good luck, especially when they don't have that ease when multiplying by other numbers.
I know that I haven't addressed another part of Westley's comment about students "moving the decimal point" as a strategy for multiplying decimal numbers by 10. I've heard that explanation also and agree that the decimal doesn't actually move. Maybe another blog?
I'm still thinking. I welcome your thoughts.
A Postscript
I realize that one example doesn't prove much. Here are video clips of two other students, Jennifer and Sergio, answering the same two questions that Natasha answered. For 12.6 x 10, Sergio asked to skip it, claiming he couldn't figure out the answer without paper and pencil, while Jennifer gave the incorrect answer of 120.6. For the contextual problem of buying 10 pens at $1.39 each, Sergio and Jennifer both get the answer correct, each reasoning in a different way.
| | |
| --- | --- |
| Sergio: 12.6 x 10 | Sergio: Buying Pens problem |
| Jennifer: 12.6 x 10 | Jennifer: Buying Pens problem |