Instruction about angles and how to measure them typically begins in fourth grade and continues in middle and high school. This blog describes the instruction about angles that Sara Liebert and I provided her fourth graders at John Muir Elementary School in San Francisco. We planned together, basing the lessons on ones I had taught before but usually to older students. We were thrilled that the experiences worked fine with the fourth graders. This mini-unit is a keeper.
To tell the story, following is a series of photos from the first three days of instruction, each annotated with information to describe what we did and what resulted. Information follows about the instruction that followed.
You'll notice that the introduction to the unit was a number talk that focused on factors of the number 36. Sara regularly uses number talks with the class, and while this doesn't seem to relate directly to learning about angles, please be patient as you read and you'll find out about why we began this way.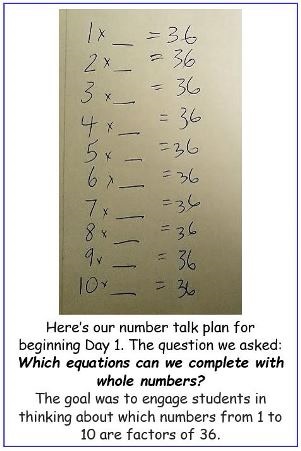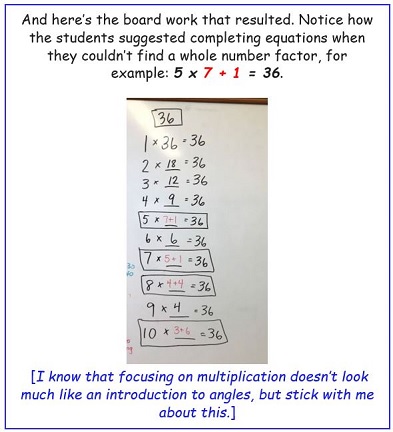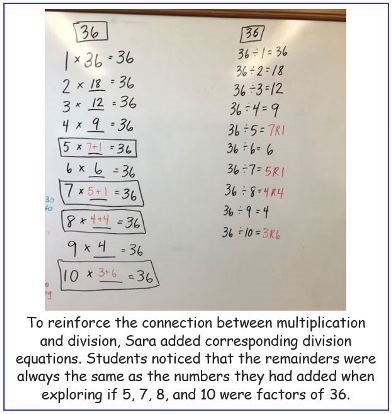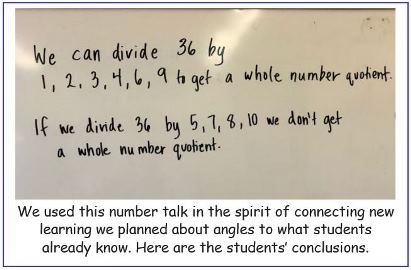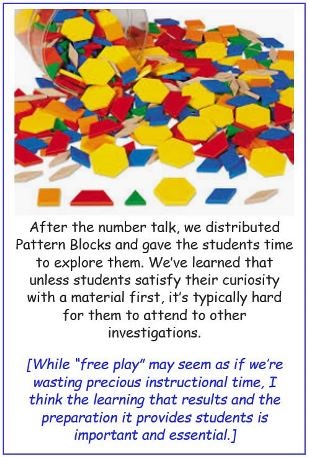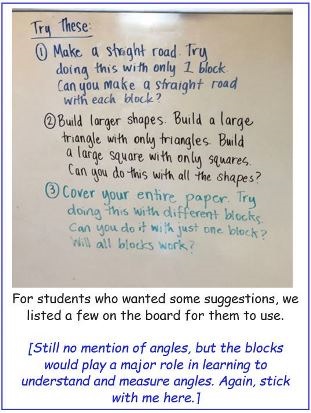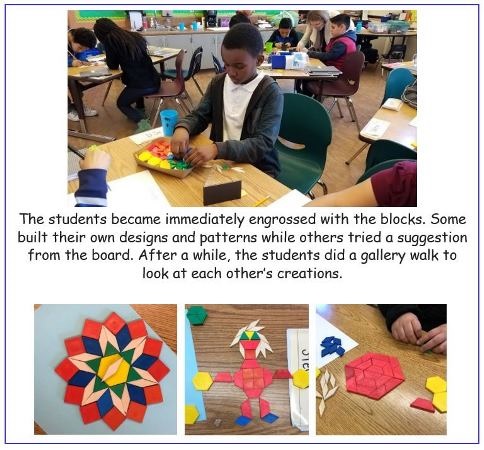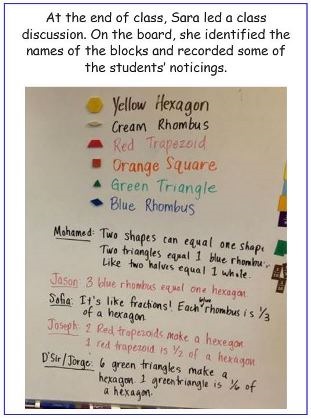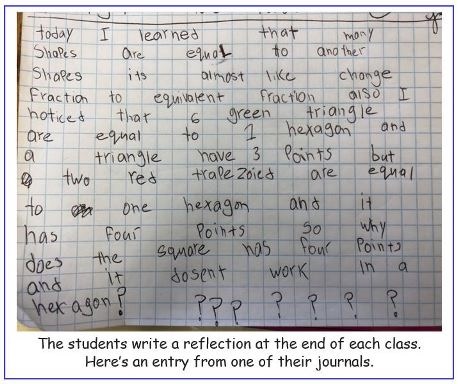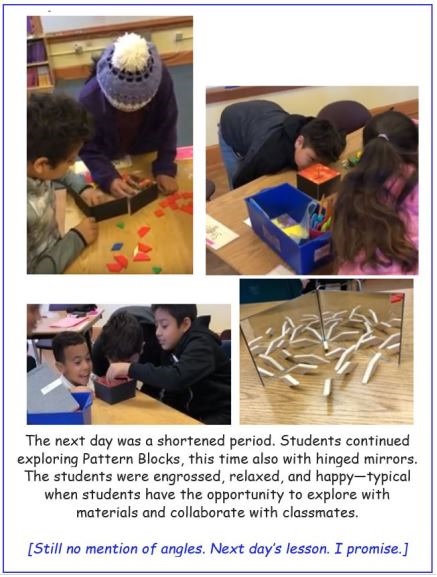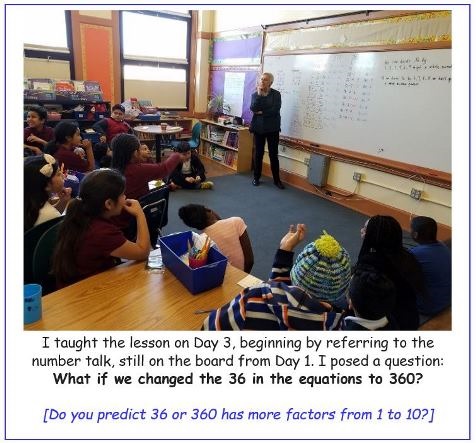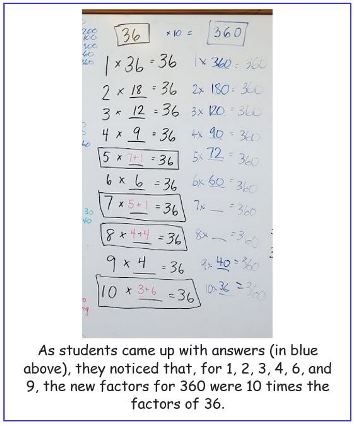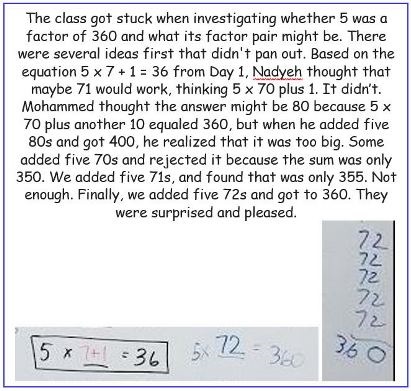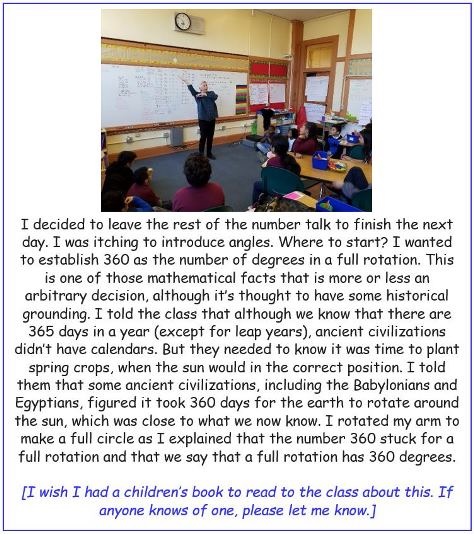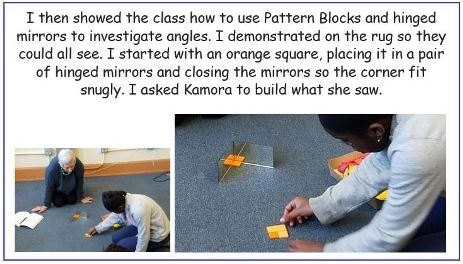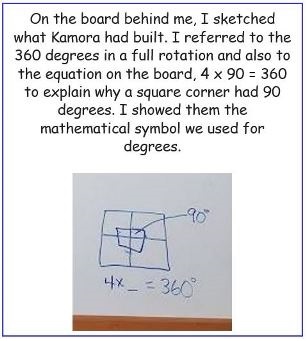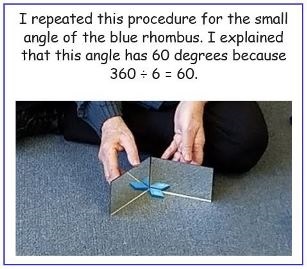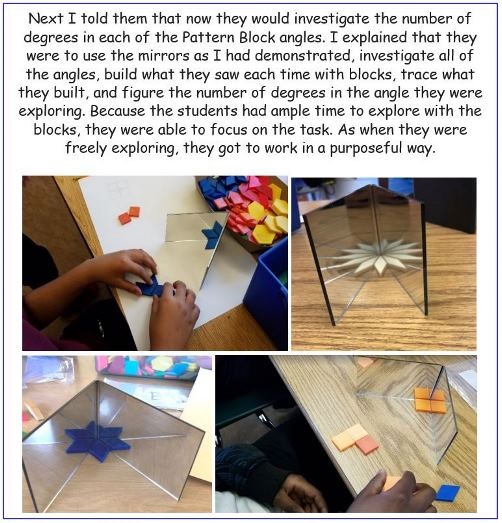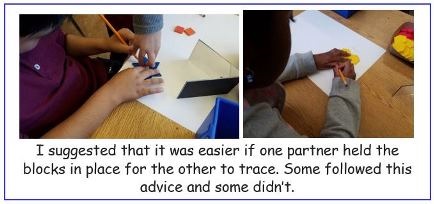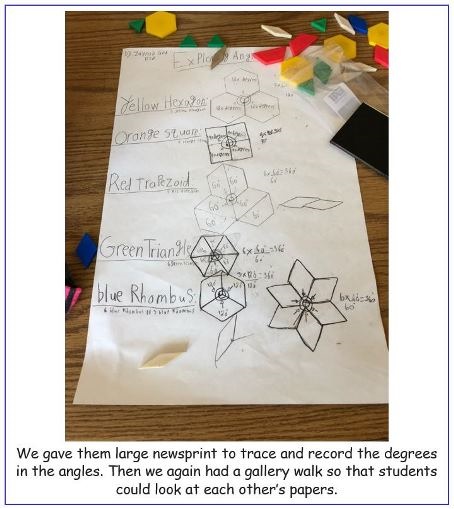 Reinforcing Angle Vocabulary
New vocabulary is best learned in the context of experiences. After the students had explored measuring the Pattern Block angles with hinged mirrors, we introduced the terminology of right, acute, obtuse, and straight angles. We wrote these on a Math Words chart and used the terminology regularly with the students.
Constructing Weird Angles
Instruction continued over the next days with a variety of explorations. Students used what they knew about the angles of the Pattern Blocks to construct "weird angles," combining angles from Pattern Blocks and paper folding to make new ones.


Investigating the Sum of the Angles in Triangles
From the investigation they had done with the Pattern Blocks, they were able to figure out that the sum of the three angles of the green triangle was 180 degrees. We engaged them in an investigation of other triangles, drawing different shape triangles, cutting them out, tearing off the corners, and arranging them touching the same point. The students were amazed that the angles of all triangles always made a straight line, or a straight angle.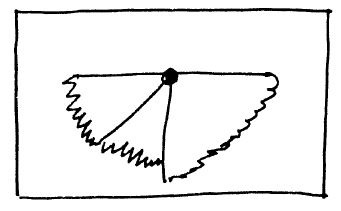 Using Protractors
The students learned how to use protractors to measure angles. Sara showed the class a protractor and told the students that it was a measuring tool. She reminded them that they use rulers to measure lengths and scales to find out how much things weigh, and now they'll explore how to use protractors to find out how many degrees there are in different size angles. She distributed protractors for students to examine. After a bit, she asked them to describe what they noticed. They reported a variety of observations: "It's round." "It's half a circle." "It has a hole." "There are two rows of numbers." "The number 90 is in the middle." Sara showed them how to use the protractors, starting with a right angle which they already knew had 90 degrees. The students were intent on figuring out how to use the protractors to measure other angles.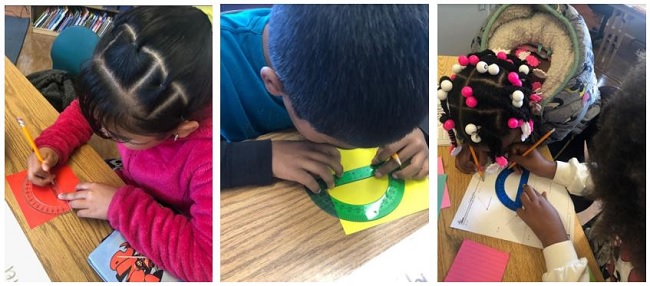 Incorporating Angles into Number Talks
Sara continued to engage the class with number talks that presented angle measurement problems. Here's the board work from one of these.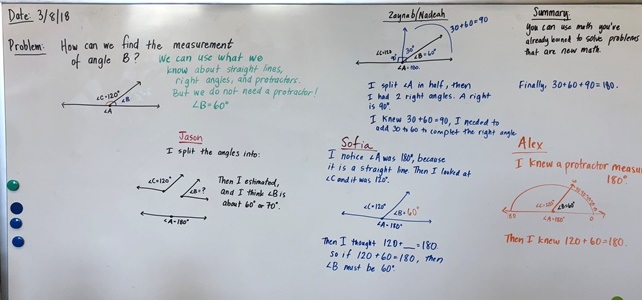 To prepare, Sara and I relied on Chapter 6 from A Collection of Math Lessons from Grades 6 Through 8, a book that Cathy Humphreys and I wrote in 1990. That's the book by my side in the introductory photo of the blog with me on the floor with Pattern Blocks and hinged mirrors. An updated version appears in my 2020 book, Welcome to Math Class.