I majored in math in college, and I remember my college professors as caring and kind. However, as they gave their lectures and filled the chalkboard, there was always a moment that triggered my downfall.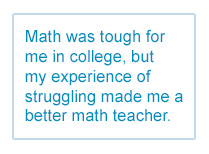 A professor would say, nearing the end of an explanation or proof, "So you can now see that . . . ," or "It's now obvious that . . . ," or "Because of this, it's now clear that . . ." But for me, "now" rarely came. I often didn't "see" what the professor saw; nothing was "obvious" to me; and little was "clear." I received my math degree, but it was a struggle.
Today I'm fine with the content of math through high school, but I still feel inadequate with much of what I studied in college. And while those experiences in college occurred more than 50 years ago, I can still conjure up the feeling of being an inadequate math student. In a way, I think that my feelings are similar to what some teachers I've talked with felt when sent to the chalkboard to do work in a math class in elementary school. The feelings run deep.
There's an upside to this story. When I became a teacher, I made some promises to myself. I would never contribute to students in my math class feeling inadequate or demeaned by math. I would do all I could to help students build understanding of the math they were learning, as I had somehow built understanding successfully through high school math. I would never say things like, "So you can now see that . . . ," or "It's now obvious that . . . ," or "Because of this, it's now clear that . . ." I was going to be a different kind of teacher.
But what it meant to be a different kind of teacher wasn't clear to me, and the journey to figure it out has been the main quest of my teaching career. In my beginning years of teaching,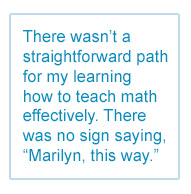 when I taught eighth and ninth graders, I reverted to teaching the way I had been taught. I planned my lessons carefully, taught from the chalkboard, then circulated as students did assignments. Explaining was the only teaching method I had and a box of colored chalk was my main tool. My lessons worked for some students, as some lessons had worked for me when I was learning. But I was painfully aware that my lessons didn't work for others. I realized that I was doing to some of my students just what my well-meaning math professors in college had done to me.
That's when I started my search for how to be a better math teacher. And that search took me in several directions: First I had to learn more about the math I was teaching—more about whole numbers, fractions, algebra, geometry. Yes, I had a strong math background, but I hadn't thought enough about the why of math when I developed proficiency with skills and procedures. Also, I began working with students in earlier grades, fascinated by how younger children dealt with math to learn the basics. And, of course, I had to figure out how to establish and manage a classroom that gave students access to the mathematical content and also invited them to become mathematical learners.
There wasn't a straightforward path for my learning. There was no sign saying, "Marilyn, this way." I engaged with colleagues, learned from my students, took classes and workshops, attended conferences, and read many resources. My goal has been for students to be interested in math, to be curious about new math ideas, to be willing to take risks and plunge into solving new math problems, and also to see math as engaging and playful. I feel that my efforts have paid off. Most recently, in the two second grade classes I worked with last year, math was rated as the students' favorite more than any other subject. The teachers and I were thrilled.
It's in this spirit that I've decided to start a blog. I'm still on the journey of becoming a good math teacher, and I invite you to come along with me. I'm in classrooms regularly, so I plan to offer thoughts about teaching math, suggestions from my past and present classroom experiences, links to resources I've found useful, problems to solve that interest me, and more. I look forward to sharing my thoughts with you and hearing feedback as we travel together on this journey.